Make a Seafood Feast At Home!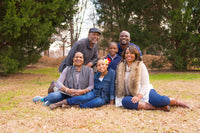 Who's Joe?
Meet Joe, a devoted Vietnam Veteran whose life intertwines love, dedication, and a legacy shaping business. With wife Patricia, they generously gifted their savings to son Joseph Dowell III, fueling heartfelt support. Their backing extends beyond finance; Joe and Patricia share invaluable time and experience, nurturing their son's business into something extraordinary. Their boundless love became the company's cornerstone, inspiring its name and reflecting love, generosity, and a vision to nourish the world.
Enter your email below to receive new Joe's recipes
and more delivered straight to your inbox.
Keep In Touch
Fill in the fields below to send us an email! 
Contact us