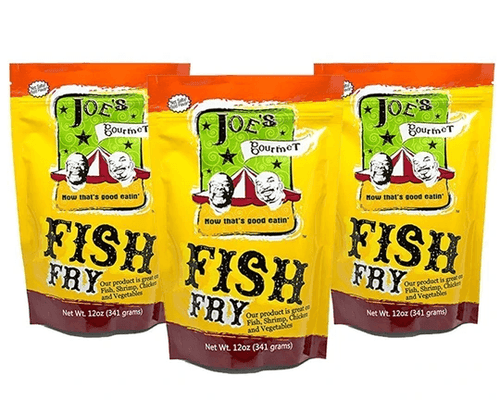 TASTE IT! LOVE IT!
Joe's Gourmet is the tastiest golden light fish fry in the world! Want to make your seafood amazing? Just dip and fry!
Our product absorbs less oil. so it gives fried seafood, and vegetables all the taste and crunch with less oil absorption.
We invite you to indulge in this product made with the most wholesome and best ingredients.
PRODUCT USAGE
A deliciously fully seasoned breading mix for all seafood, i.e. shrimp, fish, oysters, also great for various types of vegetables and other meats. Try rolling okra, squash, or green tomatoes.
PROFESSIONAL FOOD SAFETY
A complete COA with moisture PH and salt reading. Complete HACCP plan and allergen segregation plan. Full traceability by lot down to the ingredient level in the case of withdrawl or recall. Ability to provide documents such as specification sheet, allergen, GMO status, 100g nutritional.
INGREDIENTS:
YELLOW CORN MEAL, YELLOW CORN FLOUR, SALT, ONION POWDER, GARLIC POWDER, SPICES, SUGAR, DEHYDRATED ONION, CITRIC ACID, SOYBEAN OIL (AS A PROCESSING AID), DEHYDRATED GARLIC, NATURAL FLAVORS, MALTODEXTRIN, POTATO STARCH, ORANGE PEEL POWDER, DEHYDRATED PARSLEY, EXTRACTIVES OF TURMERIC.