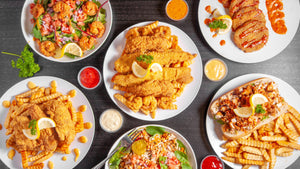 In a brown bag or ziploc bag or container add Joe's Gourmet Fish Fry

In a deep pie plate or large shallow bowl,  whisk an egg.

Dip shrimp or fish  in beaten egg mixture then add back into the Joe's Gourmet Fish Fry  and shake liberally to coat well. Place coated shrimp on a baking sheet.

While coating sets, add 2 - 2 1/2 inches of oil to a deep pot and heat over medium high heat.

Fry shrimp and fish until golden brown but don't fry too long. Shrimp doesn't take too long to cook.

Drain on paper towels and serve.